Greetings All.
As a warm up to the spectacle that will be 'A Very Makers Christmas' which will be taking place in the Library from 12pm – 2pm on 6th December we proudly present….
The Knowledge Makers Cryptic Quest – A real treasure hunt, with real treasure!
Seven locations hiding seven puzzles leading to the final hidden treasure – with *actual* prizes of £25 Amazon vouchers for the first two persons / teams to complete the quest!
We are extremely grateful to KMi for the donations of the prizes.
You will need a QR enabled smart phone to play. Each location is marked with a QR code that will take you to a puzzle page with a riddle to be solved and a clue to the next location.
The clues you are looking for look very much like this….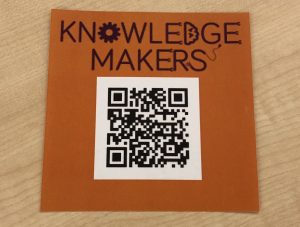 All of the quest locations are on Walton Campus and are easily accessible.
To get started you'll need to find a starting point, this won't be hard – there are plenty scattered around campus.
Find one, read it, scan it and you're on your way!
Good luck – now get hunting.
The Knowledge Makers.
*Please note anyone with prior knowledge of the competition is of course welcome to take part but will *not* be eligible to claim the prizes*